This article is written for the purpose of ensuring that it is up to date and accurate since the situation around the world is changing dramatically.
Various governments have changed their travel policies including alerts and warnings to restrict travel during this time.
So, if you wonder whether you can travel to Thailand or have already planned to fly to Thailand, please read along to get to know the latest updates on travel restrictions and quarantine requirements.
Who can travel to Thailand?
Thailand permits only a limited number of foreign nationals to enter under strict protocols and heavy documentations. The following groups of travelers have been allowed to enter Thailand are:
Diplomats and foreign workers including their families,

Business representatives and experts invited by the government,

Permanent residents,

Foreigners with Thai families,

Students and their guardians except for students of non-formal educational institutions under the law on private schools and of other similar private educational institutions,

Medical tourists and their attendants,

Business visa holders,

Thai Elite Visa

holders who possess the Thailand Privilege Card members with benefits for a period between 5, 10, or 20 years depending on the chosen package in exchange for a membership fee,

APEC Cardholders,

Special tourist visa

(STV) holder and tourist visa (TRV) or a short-term visa holder,

Non-immigrant O retirement visa, 

Non-immigrant OA and OX holders and 

Migrant workers with official documents.
Under the STV scheme by the Tourism Authority of Thailand, long-staying visitors can stay in the country for 90 days, which can be extended twice, each for a further 90 days. The visa will cost 2,000 Baht per 90-day extension. The STV cannot be changed or converted into any other type of visa in the duration of your stay in Thailand.
Foreigners applying for a Special Tourist Visa must be:
Foreigner from a low-risk country according to the Public Health Ministry regulations

Accept compliance of preventive measures as prescribed by the government, including submitting to alternative state quarantine (ASQ) in accredited hospitals/hotels for not less than 14 days upon arrival

Provide evidence of a place to stay or accommodation during the long stay visit

Show proof of payment for hotel accommodation or admittance to hospitals chosen as alternative state quarantine (ASQ) facilities

Have Medical and Travel Insurance with a minimum 100,000 USD coverage for COVID-19 medical treatment and a minimum coverage of 400,000 THB for other medical and accident expenses. The insurance must cover for at least 90 days which is the initial validity of the visa

Provide any of the following as evidence: proof of payment for hotel or accommodation to be used after discharge from 14-day quarantine; copy of a condominium title deed owned by the visitor or a family member; evidence of renting accommodation – condominium or house; and evidence of payment for the purchase or lease of a condominium-type residence that foreigners can legally buy or lease
All foreign travelers with the required evidence above will be eligible to apply for an STV from Thai embassies or consulates in selected countries and once are qualified, they must get in touch with the local Tourism Authority of Thailand Office or Thai Embassy in their current location for more information.
How many documentations are required to enter Thailand?
Qualified travelers must obtain the following documentation. You can verify the documentation here based on different categories of travelers.
Health certificate showing negative COVID-19 RT-PCR test results issued no more than 72 hours before traveling

Certificate of entry

(

COE)

from their

local Thai embassy or consulate

. Your application should be submitted at least

10 working days prior

to the intended date of travel and

must

submit the following documents to the consular section of the Thai embassy or consulate:

Passport

Original or copy of the valid work permit or Letter issued by the relevant authorities of Thailand indicating permission for entry into Thailand for work purposes (if applicable)

Original or copy of the valid work permit or Letter issued by the relevant authorities of Thailand indicating permission for entry into Thailand for work purposes (if applicable)

Copy of the Health Insurance Policy covering treatment and medical expenses related to COVID-19 with a minimum coverage of 100,000 USD

Copy of flight details of the intended date of travel. The Thai Embassy or Consulate may also refer you to the available repatriation flights

Fit to Fly certificate

issued by the relevant authority, and a negative PCR test result issued no more than 72 hours before departure

Certificate from the Thai Embassy or the Thai Consulate in the country of origin

Proof of Health

Insurance covering COVID-19

medical examination and treatment (not less than 100,000 US dollars)

Letter of approval on quarantine accommodation by the Thai authorities

Post-quarantine accommodation details for the entire duration of stay
For more detail regarding Visa and Certificate of Entry procedures and download the required documents for Non-Thai nationals wishing to enter Thailand for Tourism purposes, please visit: https://thaiembdc.org/2020/11/05/trsingle_entry/
How do I book a flight and Alternative State Quarantine ASQ or ALSQ?
You should contact The Thai Embassy or Consulate in your country to refer you to the available repatriation flights by submitting a copy of the flight details of the intended date of travel. For charter flight or private flight details with all charges to be absorbed by applicants. 
Travelers are required to book the 14-day ASQ/ALSQ or government-approved hotels in Thailand at the traveler's own expense with a price range from 26,500 THB (about 880 USD) to 600,000 THB (about 20,000 USD) for the two-week quarantine.
Alternative State Quarantine (ASQ) is a mandatory quarantine accommodation for Thai and foreigners who return or travel to Thailand. You can easily book the hotel online through Agoda. When you check the hotel via the Agoda booking site, the terms and conditions will be listed in the "Benefits" section. Please make sure to check them before making a reservation.
The important note you need to remember is that the period of your stay must be 15 nights as mandated by the Thai government and the bookings must be made at least 10 days prior to the check-in date.
The ASQ package includes: 
Free WiFi accommodation for 15 nights with 3 meals a day

Private car transfer from either

Don Muang Airport

or

Suvarnabhumi Airport

24/7 on-call nurse for health check 2 times a day

Two COVID-19 tests: on the 5th and 13th day of quarantine
Alternative Local State Quarantine (ALSQ), also called, Alternative Local Quarantine (ALQ), is the list of quarantine hotels located outside Bangkok. There are available in 8 provinces: Pattaya, Phuket, Surat Thani (Koh Samui), Chiang Mai, Phang Nga, Buriram, Prachinburi, and Mukdahan.  
To make reservations for the ALQ package, it is best to contact hotels directly. Ordinary hotel bookings made on online hotel reservation systems cannot be used for getting the quarantine service and won't be accepted by Thai authorities for issuing the Certificate of Entry (COE). 
However, a limited number of hotels have started offering their ASQ/ALQ packages on Agoda. The current list of hotels accepting quarantine package bookings via Agoda can be found here: ASQ/ALQ Hotels on Agoda.
We offer contemporary living, right in the heart of Silom and Sathorn, Bangkok.
Travelers must undergo health screening from the Ministry of Public Health. The STV holder will be issued a permit to stay for 90 days in Thailand if the tourists pass all screening measures. They will immediately depart the airport to begin the strict state quarantine at their paid ASQ/ALSQ.
Once they are tested negative for Covid-19 after the 14-day quarantine, long-stay tourists will have the freedom to travel as they please around the country with a mobile application that will track their destination.
The Thailand Special Tourist Visa (STV) holders can enter Thailand starting on October 1, 2020 until September 30, 2021.
What if I would like to extend my visa?
Any nationality holding a 60-day tourist visa entry stamp can extend for 30 days at the local immigration office.
For the extension, you just have to submit one passport size photo (4cm x 6cm) with white background, TM6 card, TM30 receipt from your hotel, and pay the fee of 1,900 Thai baht without the embassy letter.
However, the embassy letter for a visa extension from your embassy in Bangkok is required if you would like to do the second extension caused by travel restrictions and flight cancellation.
If you are a foreigner staying in Thailand for a period longer than 90 consecutive days holding a Non-Immigrant Visa or Extension of Stay, you are required by the Thai Immigration to report your current address every 90 days.
You may file for the TM47 notification in person, by mail, online, or by an agent. Please check this page: https://www.thaiembassy.com/thailand/90-day-reporting-immigration.php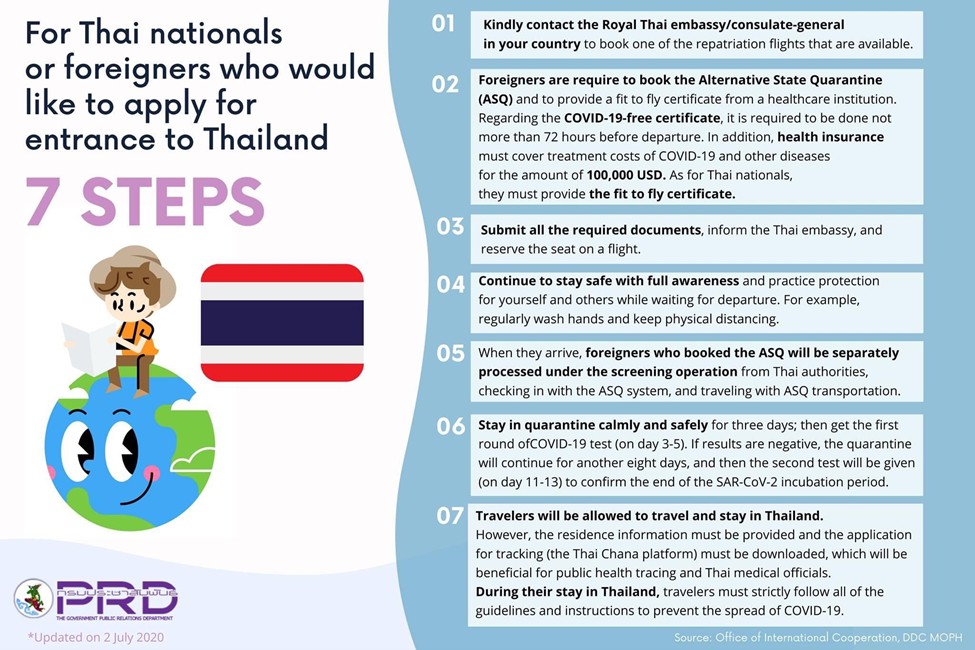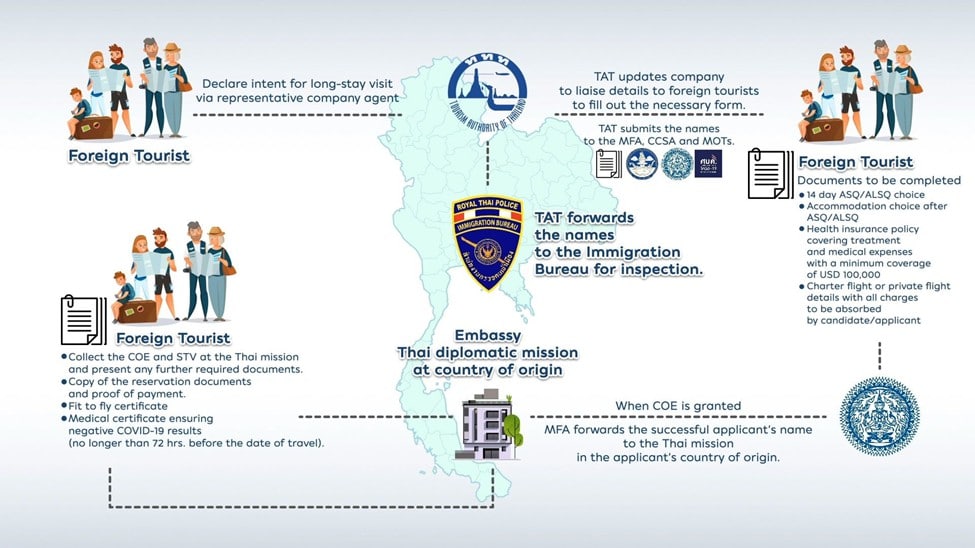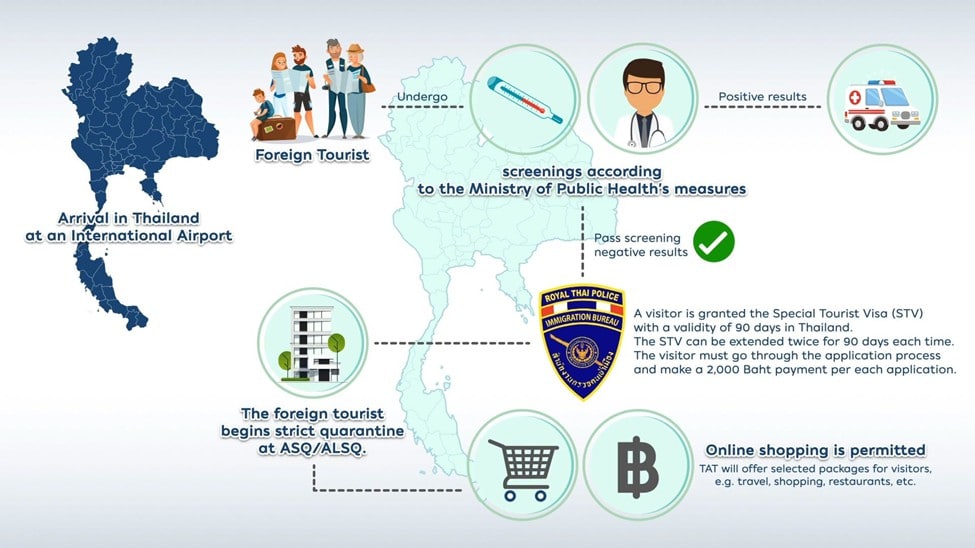 The images above were taken from the video footage of TAT VTR Special Tourist Visa.
Special Note:
Some information about Thailand Special Tourist Visa still remains not clear, so you should contact the Thai Embassy or Consulate in your current location or the local office of the Tourism Authority of Thailand before making any plans or reservations.
We offer contemporary living, right in the heart of Silom and Sathorn, Bangkok.